Well I'm in a decent mood aside from this rain we're getting in SoCal. ...it would've been more accurate if they phrased it as "It RARELY rains in Southern California."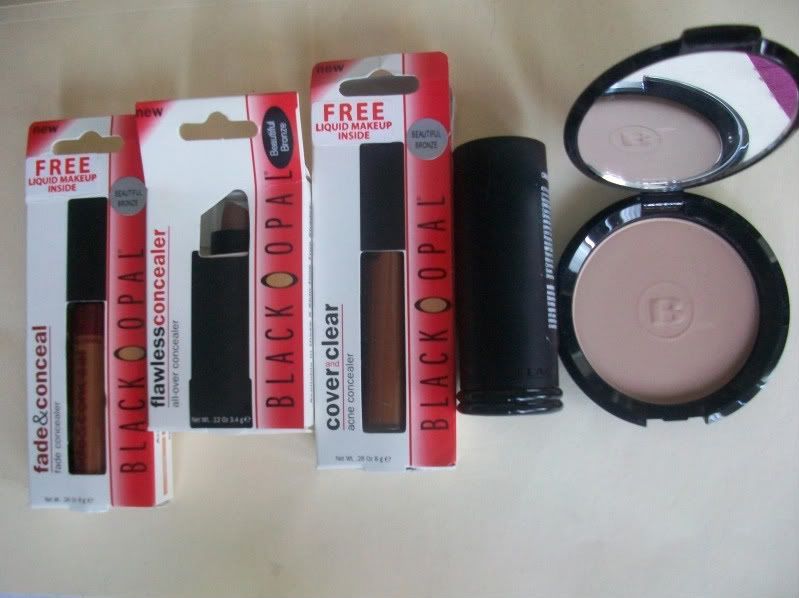 From left to right: Fade Concealer, All over Concealer, Acne Concealer, Foundation Stick, Oil Absorbing Powder (all products excluding powder are in "Beautiful Bronze")
Okay, on to business. This weekend, I ventured to INGLEWOOD!- *Dr.Dre Voice* I went to a comedy show at the J-Spot with my brother and I remembered how bad I'd been whining weeks before because of the lack of cosmetic products for women of color in the Valley (specifically Black Opal and Iman). So I took it upon myself to hit up the Rite Aid on Crenshaw and low and behold I bought all those goodies! I have been in desperate need of a concealer since 2008.- It gets that bad. I really really love the premise behind the concealers. The fade & conceal is a 2-in-1. It covers up imperfections and fades them in the process! Yes! My second favorite is the acne concealer which is another 2-in-1. It has acne meds added to it so you can cover a zit and heal it at once. (However, I usually don't recommend covering zits with make-up especially foundation because it tends to make them stand out more.) The oil absorbing powder is awesome! For some odd reason, my t-zone has been ridiculously oily as of late. My guess is humidity because I never had this problem before. Anyway it also comes in a loose powder. Great buy for those with oily-t's. Added bonus: Two of the Concealers came with liquid foundation testers! ...I'ma ramblin woman!