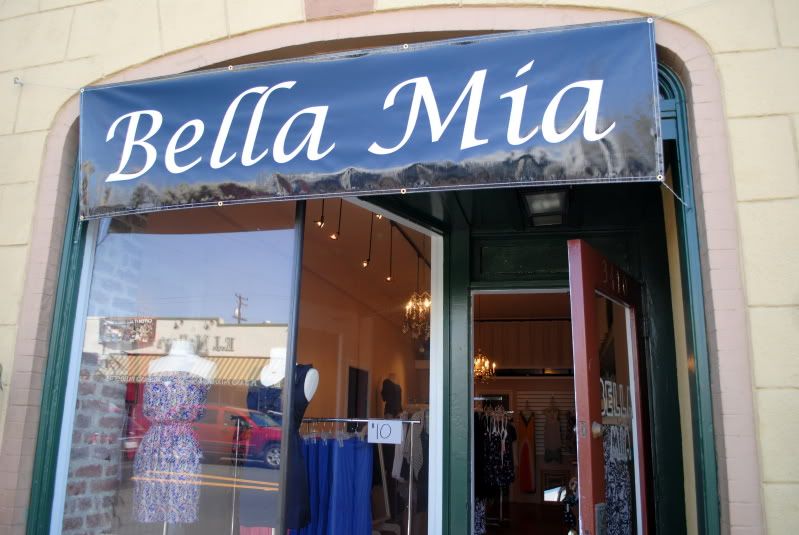 ha. I bought this shirt.
Last Friday, I took a trip to Long Beach to visit my good friend Jackie, who recently opened up her own boutique, Bella Mia near the beach. I stopped in, poked around, ate a taco and chatted it up with her about becoming an entrepreneur. Jackie Gonzales, Co-Owner of Bella Mia Boutique
MissRiot:
How did you come up with the concept for Bella Mia?
Jackie Gonzales:
I've always loved vintage and old-fashioned Italian Hollywood like Sophia Loren. I love the sexy, curvy, silhouette and that's what I wanted to incorporate in the store.
Riot: What makes Bella Mia different from other boutiques?
Jackie:
Our prices are not super high. I want H&M prices but with great style. My philosophy is "Everything is under $40!" I don't spend a lot of money on fashion because it moves so fast. I like classic staple items.
Riot:

What is the story on how Bella Mia came about? Jackie:
My mom was talking to Lolly's mom (co-owner of Bella Mia) about opening a store. Lolly and I met up 1 time and we're like "let's do this." It started like a dream and then it just happened. I feel like if it is meant to be it happens so easily.
Riot: In terms of fashion, how would you classify Bella Mia? Jackie:
Flowy, beachy dresses for every body type. We have a mixture of flowery prints that can be accessorized. It's a mix between beachy and classic.
Riot: In 5 years, where do you see Bella Mia? Jackie:
We're taking things day by day. We're still in the process of learning. If any of you guys live in Long Beach (LBC) or plan on visiting soon and want to check out Bella Mia. Here is the contact information! Bella Mia 3410 East Broadway Long Beach, CA 90803 (562)433-1771 Hours: Mon-Fri 11AM-7PM Sat 11AM-8PM Sun 11AM-6PM Follow them on Twitter @bella_mia_shop Oh and all rompers are on sale for $10!