Habari Ghani! Today we celebrate the second principle of Kwanzaa- "Kujichagulia" which means self-determination. I'd like to present to ya'll one of the most inspiring artists I've met thus far. I love my self-portrait! This is one of the best gifts ever! I present to you:
Modé
Modé is an artist from Nigeria. She's spent almost half of her life away from home but still has a solid connection to her motherland. She graduated from the Academy of Art University with a BFA in Character Animation and she's presently figuring out the next step in her life to take.
1. You're a really gifted artist. When did you first discover your talent or passion for creating your visions on canvas?
Thank you. My talent wasn't much of a discovery, I wasn't even very good artist at first. It was something I worked on continuously then I eventually grew and became what I am today. It's still in the process and I don't believe I'm at my best yet. In terms of passion I don't remember when I didn't love art. I've always loved it.
I get tons of inspiration from all sorts of art. My favourite artist is Frida Kahlo. Although my art looks nothing like hers I strive to embody the power and emotion she expresses in her paintings. I like her as a person (at least what I know of her) and her paintings speak to me. Artists I also love are, John Singer Sargent, Van Gogh, Leonardo
da Vinci, Michelangelo, Peter Paul Ruben, Manet, Courbet and Mucha. I like graffiti and impressionist art.
I love to paint people, any kind of person as long as their beauty intrigues me. Unfortunately though, I noticed going to art galleries and looking at paintings of all sorts there weren't enough paintings of dark-skinned people so at the moment I'm trying to fill that gap where there's a lack of ethnic art. But my ultimate goal is to be able to pull out the unique personality the individual has on canvas.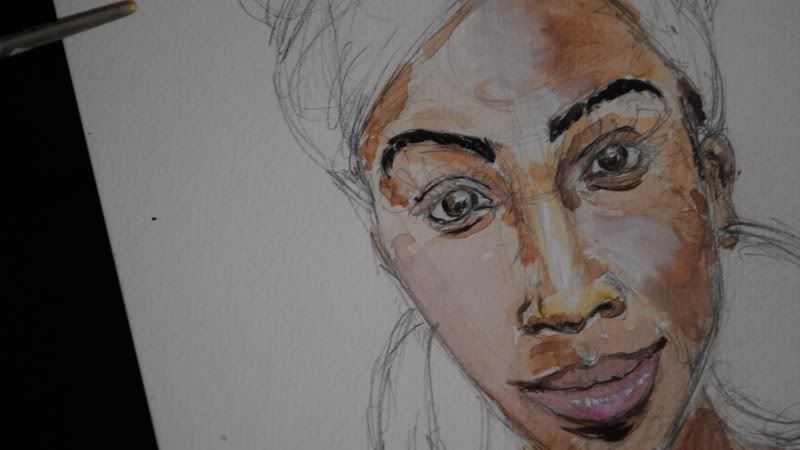 Here is the original photo she used for the painting.
Be sure to check out more of
Modé's works on her blog: http://modechronicles.blogspot.com/
I'm heading out of Texas soon back to my home in Los Angeles to ring in the new year! I wish you all a continued pleasant holiday!